Artesanía Vivas since 1896 in the fine leather industry
New lines of business for the new market tendencies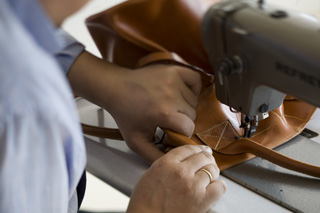 Artesanía Vivas is a fourth generation family business located in Malapartida de Plasencia in Cáceres (Spain). Founded by Justo Vivas Recio in 1896 as a fine saddlery, that has turned into a leather goods firm.
Early on, Justo Vivas Recio and his brothers started to make creations primarily for riding and hunting, such as leather chaps, leggings and other items for equestrians. The founder became known for using a jackknife to cut leather, and he even designed his own tools made out of wood, bone and iron to allow him to work the leather in his own meticulous way.  In later years, Justo expanded his production and added wallets and briefcases.  He also pioneered a distinctive method for engraving customers' names or initials on the leather.
Petaqueros

Later, when Hipólito Vivas Oliva took over the business he created the "petaca", a small pouch for carrying tobacco that would forever give the Vivas shop the local nickname of "petaqueros."
But Hipólito was always pushing to new product areas and production techniques.  In fact during the 60's and early 70's, when plastics and mass-production threatened the artisanal way of life, Hipólito shifted his production process toward small batches rather than producing one item at a time.  This change retained the traditional handcrafted quality but also enabled Vivas to better respond to consumer trends and demands. 
In the third generation, Manuel Vivas García, keep the tradition, quality standards and manufacture method as the flagship of the firm. His work stands out after using sewing machines and further expanded into leather accessories for ladies such as purses and handbags. He applied an assembly-line production to be more competitive and enable costs savings and time spent. He added new materials, such us zinc, a long-lasting with lower variations one, to make hard-wearing goods.
Spanish sense of design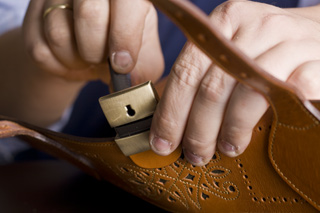 Today, under the watchful care and leadership of Manuel Vivas, the 4th generation of Artesanía Vivas continues to make beautiful and unmistakably Spanish leather goods that still adhere to strict artisanal standards and values. Manuel Vivas also continues the Vivas traditions in hunting, equestrian and clothing accessories such as belts and wallets.  In addition, Manuel recently introduced a variety of new colors, textures and styles across an expanded line of women's accessories. Artesanía Vivas remains one of the few leather artisans that blend old-world nostalgia and craftsmanship with a forward-looking yet distinctively Spanish sense of design.
Recently, Manuel has expanded the lineup by adding a broad variety of new colors, textures and styles and a comprehensive line of accessories for women and men.
After more than a century and the long term recognized prestige throughout all this time, Artesanía Vivas focuses on highly specific creations in order to strengthen its position in the market by paying attention to changing trends.
Current Artesanía Vivas lineup consists of households' goods, wallets, purses, briefcases, Monfragüe souvenirs, and other items for equestrians, hunting and bullfighting apparels.